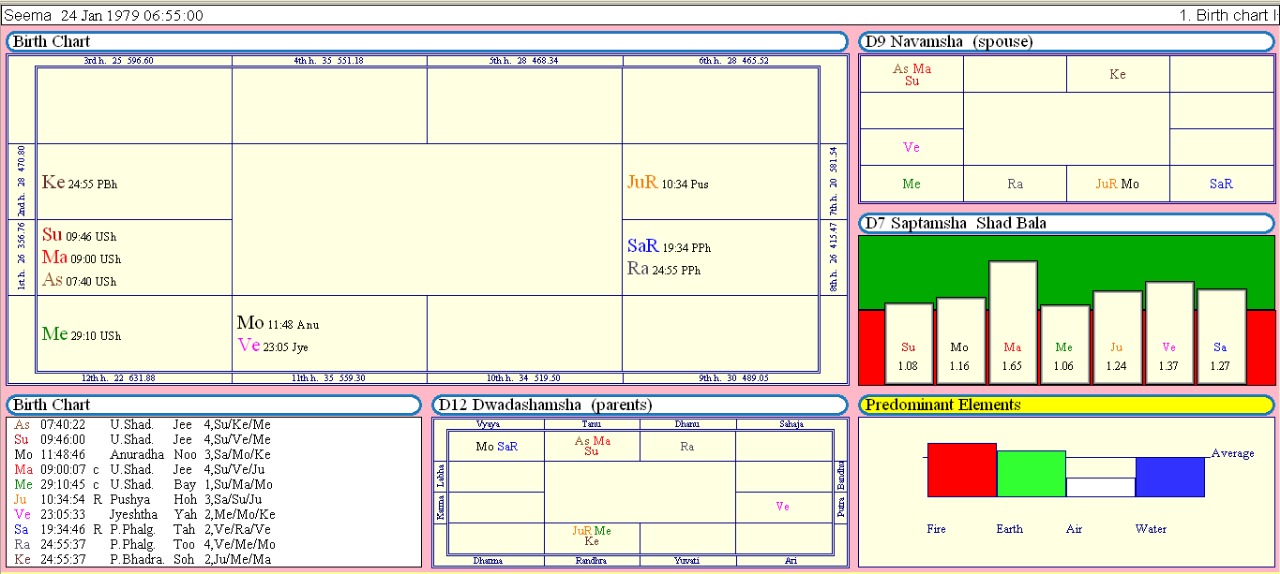 this is a female horoscope. the natives jeevakaraka venus is posited in vruschika rashi. so the characteristics are as follows:
1)she is very very secretive in nature.
2)she doesm't open her mouth with anybody and doesn't disclose any matters in any circumstances
3)ee jaatakige swalpa chuchu maatanaduva swabhava .
4)very impatient in nature.
5)she will wait for the situation and then start attacking.
 6)as it is jalatatwa she mingles with all the people.
7)as she is thamasic she is very lazy in nature
8)she doesn't like to work hard
8)she likes spicy food and street side food.
9)the natives sister karaka budha is in dhanssu rashi her sister doesn't do any thing by herself somebody should force her to the things.
10)the natives husband karaka kuja is posited in makara rashi and pruthvi tatwa the food should be very tasty and in time otherwise starts shouting at her.
11)mars, sun  is posited in makara rashi which is eeshwaramsha rashi her father had stayed far away from them at their younger age.
12)ketu is posited in kumbha rashi and her maternal grand parents were very secrative about their loop holes in the family and never let others to enter into the family.
 13)mother karaka moon is in vruschika rashi her mother used to do some secret regarding her job.
14)the native has a samyoga of venus+moon in the first house and jalatatwa she has lot of financial problems.
 15)her father karaka sun is posited in makara rashi he used to speak very hurting to others and never let any one what his thoughts are.
16)the natives jupiter is retro posited in kataka rashi and she doesn't listen to anybody.
17)she does what she wants
18)she is very lazy and adamant
 19)she is not flexible
 20)her finances are stuck up and not yet recovered because it is hampered by vakri jupiter.
21)even she has health issues and not able to recover from it.
22)she has left her main job and changed her profession
23)she got success only after she got married and she got success after the age of 36 years.
24)she gives a little bit of charity also but not always.
25)her thought process is entirely different from others.
 26)she got sucess in her education also only after she changed her birth place.
27)she keeps on assuming things on her friends and people around her.
28)she is very arrogant and egoistic.
 29)she puts her hands in all the fields and doesn't get success.
30)her satrun is also retrograde and for every thing she needs a second attempt and for her she has failed in first chance of marriage and second one is sucess.
31)she even has an attitude of be perfect.
32)she is very slow in whatever she does.
33)her education is also succeeded in second attempt.